From now to 30 Sep 2016, you can access to 3HK Wi-Fi service 3HK is now providing Wi-Fi service at over 20,000 hotspots in HK for FREE!
If you are from European Countries you probably have heard of 3HK. Owned by the richest man in Hong Kong, 3HK has over 20,000 Hotspots includes Hysan Place, 1881, Soundwill Plaza, Sino Plaza, Whampoa Fashion World, China HK City, Festival Walk, City Walk, Olympian City, TMT Plaza, Sogo TST, Lee Tung Avenue and chain retail stores includes Watson's The Chemist, Watson's Wine, ParkN shop, Fortress, Eslite Spectrum (Taikoo and Tsim Sha Tsui stores), Hong Kong Jockey Club Off-course Betting Centers and most 3Shops etc.
3HK is the first Mobile Operator in HK to provide daily 3 times 30-minute free Wi-Fi service to Visitor!
Connecting to 3HK Wi-Fi is easy, first you search for 3HK hotspot with SSID "3HK Wi-Fi (Free)", fill in the form with mobile number and email address. After that you'll receive one-time password via SMS or email, note that it requires a local mobile number to receive SMS, there you go! you can then enjoy a free 30-minute free Wi-Fi Service.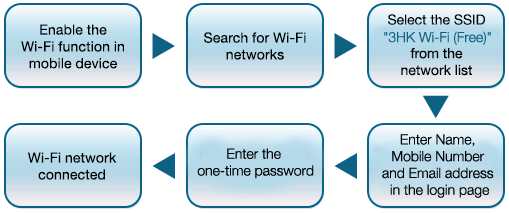 While 3HK has so many hotspot DO NOT expect to see their Wi-Fi at McDonalds' or Starbucks as 3HK has discontinued the contract with them. Good news is, you probably will still be able to find their Wi-Fi in popular locations including tourist attractions and shopping malls.
Service available until 30 Sept, 2016. For more information click here